Jeju Island 4D3N Itinerary (Day 1) - Aewol Coastal Road, Monsant Cafe, Play KPOP & Neulbom Black Pork
Rainbowish beautiful korean dishes served at Hwa Mok Won 화목원 - Jeju Island
After all the delay and exhausted working weeks, I am finally settling down and blogging about my recent FAM trip to Jeju Island courtesy of Jeju Tourism Organisation (JTO). We travelled to Jeju Island from 5 Nov to 8 Nov 2015 using Korean Air. There was no direct flight to Jeju Island hence we first landed at Incheon International Airport, took an Airport Express Bus (around 40 minutes) to Gimpo International Airport. We then took Korean Air again to Jeju Island, the flight took us around 1 hour plus to reach this beautiful island.
After 4D3N here in Jeju Island, my overall impression on Jeju Island is that this is a place that's suitable for people who love outdoor activities especially like mount climbing, waterfall, sightseeing of the beautiful scenery and most importantly you love nature. It is really relaxing to travel in this place where you can basically enjoy the beautiful view along the journey. Well it is not all perfect as sometimes there will be traffic jam in certain area. But I will still recommend this place to you guys especially couple to have honey moon here haha! Cold weather and beautiful scenery, perfect place for dating couple!
[Sponsored Ads below]
Morning sunrise view from top in Korean Air
CheeChing was one of the travel partners in this Jeju trip. Yay!
Had a nice Bulgogi Burger @ LOTTERIA Gimpo Airport
Throughout the flight in Korean Air, the seat was all right comfortable and the stewardess were friendly other than just looking pretty. Noticed one of the pretty stewardess are actually Malaysian yo. *Malaysia Boleh* The food served on plane was good enough and I highly recommend you guys to try their Korean menu. Still remember that special hot porridge with seaweed topping that you can add on later, definitely a good comfort food on plane. Talking bout the entertainment on plane, I think I watched at least 2 movies because the movies line-up were great and I can even check out the view outside through their airplane's own built-in camera. *just that the camera a bit dirty la haha*
The local flight from Gimpo Airport to Jeju Island - Korean Air
Gimpo Airport was really busy during our arrival
First Meal In Jeju Island - Hwa Mok Won 화목원 Restaurant @ Jeju City
Our first Korean meal in Jeju Island is at this restaurant which serve beautiful edible dishes. It does looks like gorgeously crafted arts for me. You just look at the photos below to know what I meant. There were many side dishes that I've never try before and I do remember the dish with abalone slice in it. The waiter was guiding us on how to eat the first meal and then showed us the right way to finish the rice with addition of hot water. I can only show it better in my upcoming travel video I guess. Stay tuned for it.
Highly recommended dish would be the grilled tilefish and grilled hairtail fish. Tasted great with just simple grill on it yo. Right beside the restaurant got a flower garden which bloom colorful flowers. The weather was getting colder hence not much flower during our visit. For more information about
Hwa Mok Won 화목원
visit their
FB page
.
Hwa Mok Won 화목원 Restaurant @ Jeju Island
My first impression on

Hwa Mok Won 화목원, the dishes are beautiful!!
Pork slice @

Hwa Mok Won 화목원
Grilled Tilefish and Hairtail Fish @

Hwa Mok Won 화목원
Interior view of

Hwa Mok Won 화목원 Restaurant
Interesting sea view along the way to Aewol Coastal Road
Aewol Coastal Road - Bomnal Cafe
봄날카페
& Monsant Cafe
몽상
After lunch, we then took the van to Aewol Coastal Road (West area of Jeju Island) and walked to two cafes around that area. The weather was windy and cloudy hence all the scenery shots down here looks a bit 'emo' la. But still, they are pretty in my eyes =) I can foresee this place will look awesome in a good weather, check out the blue sea, black stones, white beach and greenery hillside. Since this place is facing the west, you can actually catch beautiful sunset from one of the cafe when the weather is good. Either
Bomnal Cafe봄날카페
or the new cafe
Monsant Cafe
몽상,
which rumored owned by G-Dragon,
is a good hangout place with friends to catch the sunset while sipping a cup of hot coffee.
Since they are providing a nice location to catch sunset, do aware that their food and drinks menu price will be above average yo. I personally like Monsant Cafe몽상 because it has an abandoned building looks yet looks modern from the other side. Part of the huge mirror-glass can actually open and tilt to a specific angle (depends on weather I guess) so it provides a different view. My photos might not make the justice since the weather wasn't sunny during my visit and the glass door wasn't opened.
Aewol Coastal Road - Some people doing kayaking on the blue sea
#TCSelfie with Aewol Coastal Road before we head to Monsant Cafe
The stones at the Aewol Coastal beach area are black in color
Manage to do live social media update by using WiyoMY Wi-Fi Egg
When you are travelling in Korea, WiFi, Google Map and Google Translate will be your best travel assistant. It would be much easier if you have a local tour guide which can speak English. Based on my previous experience, I highly recommend you to get a female tour guide as she will be much friendly and helpful than most male tour guide haha. I used WiyoMY Wi-Fi Egg to get connected online and update my Instagram throughout the trip in Jeju Island. When we visit the rural area of Jeju Island, WiyoMY coverage wasn't that good. Since this Wi-Fi egg is small in size, it is easy to travel with and bring around. You can share with up to 5 users too. My only complain is the small size which equals to smaller battery, hence you might need to charge it more frequently. So, remember to bring your powerbank~
Bomnal Cafe봄날카페
Bomnal Cafe봄날카페
From what I understood, you will need to order a drink first before enter this famous
Bomnal Cafe봄날카페.
You will able to see cute corgi inside the cafe area. Since we didn't went in this cafe, you can check out the
instagram gallery
of this place for more idea of how it looks like.
For more information, visit
http://jejubomnal.com
.
Monsant Cafe몽상 @ Jeju Island
Monsant Cafe몽상
@ Jeju Island
Monsant Cafe몽상 @ Aewol
It was rumored that BIGBABG's G-Dragon is the owner of the Monsant Cafe몽상 on Jeju Island. I find that this cafe has a unique exterior which made with stone walls and accompanied with abandoned construction look at the side. The main attraction would be the huge glass door that reflects the scenery of Jeju Island sea view. Menu price above average and I would like to share with you some photos around the cafe.
Monsant Cafe몽상
@ Jeju Island - Long bench near the entrance
Monsant Cafe몽상
@ Jeju Island - Dining area
Monsant Cafe몽상
@ Jeju Island - Order counter
Monsant Cafe몽상
@ Jeju Island - Dining area with Jeju Island sea view
Monsant Cafe몽상
@ Jeju Island - Both indoor and outdoor dining area
Monsant Cafe몽상
@ Jeju Island - You may enjoy the sea view outdoor too
Monsant Cafe몽상
@ Jeju Island - Behind view of the cafe which have stairs to go upstairs
I believe in future Monsant Cafe will be a good hangout place if you enjoy sunset scenery. You will able to go upstairs for a better view around this area. Upstairs was close during our visit.
CheeChing with the instagram-able wall
Trixha and the interesting wall
PLAY KPOP 플레이케이팝 @ JEJU ISLAND
PLAY KPOP 플레이케이팝 @ JEJU ISLAND
If K-POP is your favourite music genre, you will love this place as you can interact with your favourite K-POP artist in the digital way. You will able to learn the history of K-POP in this place and do many sorts of activities like dancing like a K-POP Star, dress up like 2NE1 and even have a kiss from G-Dragon and take photo with it. One of the main attraction in KPOP PLAY is the Live Concert and Hologram concert (LIVE HOLO CONCERT). We watched G-Dragon hologram concert and it was so real that the aunties inside the hall were clapping hands and dance along with it. I wanted to show you how great was the holo concert, but too bad no videography/photography were allowed in the concert hall.
Learn the history of Korean Music development in KPOP PLAY
Some photobooths session for you to enjoy in KPOP PLAY
An old-style radio announcer room. The blue human figure is actually a broadcasted visual image.
A chance for you to take the same ride with BIGBANG and 2NE1 members
The admision ticket with QR Code that let you play all sorts of interactive entertainment in KPOP PLAY
PLAY KPOP Operating Hours
09:00-19:00
* (Last Admission: 1 hour before closing)
PLAY KPOP Admission Fees
Adults (age 18- over): Individual 15,000 won / Group 13,000 won
Teenagers (age 13-18): 13,000 won / Group 11,000 won
Children (36 months- age 12): 12,000 won / Group 10,000 won
For more information about PLAY KPOP, visit
http://www.playkpop.co.kr
.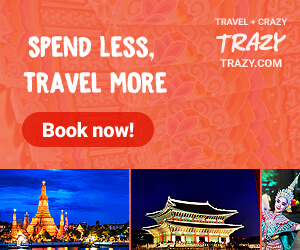 Through
Trazy
, you can get discounted ticket for PLAY KPOP Museum, Sengwipo Ferry Cruise in Jeju Island, deep sea boat fishing near Seongsan Ilchulbong (Sunrise Peak), Tandem Paragliding in Jeju Island and many more trip promotion~
Check it out!
For example:
Let's have G-Dragon sit besides you. He can even give you a kiss haha. Available only in KPOP PLAY
CheeChing the K-POP Star enjoying the limelights
Cheeching testing out some K-POP outfit by 2NE1
You can even have some virtual Korean makeup on too
All the digital photos taken during your interactive entertainment can be downloaded into a pendrive with additional cost. Or else, just check your photos at one of the photo gallery and use your phone to take the photos instead hahaha!! Eh... it's tip to save some money right? You may use the extra money to purchase some KPOP PLAY merchandises later ;p
Jeju Neulbom Black Pork (늘봄흑돼지)
Jeju Neulbom Black Pork (늘봄흑돼지)
At night, we went to this Korean Restaurant for their infamous Heuk-dwaeji (black pork ) BBQ/samgyeopsal. It was crowded during our visit and we waited for some time for our seats. You should try out their black pork and beef BBQ. Side dishes were served right after we ordered. I will always remember their super spicy raw garlic. Didn't expect it to be that spicy when eat with the vege and BBQ slice haha. The black pork slice doesn't looks black at all but you might able to see a little black hair on the skin surface.
If you don't like BBQ, you can order the seafood soup with huge abalone in it. Overall the food tasted delicious especially if you are a pork lover, but of course it comes with a price. For example, grilled pork belly selling at 100g for 8888 Korean Won (around RM32/1000g). So make sure you bring enough money to enjoy Neulbom BBQ. You may want to check out more
Instagram photos of Neulbom Black Pork BBQ늘봄흑돼지
BBQ price list for Neulbom Black Pork (늘봄흑돼지)
There will be chef helping you to BBQ @ Neulbom Black Pork (늘봄흑돼지)
Beef BBQ @ Neulbom Black Pork (늘봄흑돼지)
Available rice wine in Neulbom Black Pork (늘봄흑돼지)
Place we stay in Jeju Island - Ramada Plaza Jeju Ocean Front
Live piano music right when we arrive Ramada Plaza Jeju Ocean Front
Ramada Plaza Jeju Ocean Front is located at the north part of Jeju Island. It was a comfortable stay throughout the trip. Saw a lady playing live piano music when we want to check in. Our room is facing the city hence you will have a night city view. I love their breakfast area because their cafeteria is facing the sea and some times you can see the Haenyeo 해녀 ( which mean "woman of the sea") doing morning dive to hunt for fresh seafood. Of course, the breakfast spread comes in big varieties and you can have Korean/ Western breakfast.
Night city view of Jeju Island from hotel room at Ramada Plaza Jeju Ocean Front
Ramada Plaza Jeju Ocean Front - 1 double bed and 1 single bed room view
Ramada Plaza Jeju Ocean Front - Huge toilet with bath tub and

essential

toiletries
Chilsungro Shopping Town
Chilsungro Shopping Town and Jungang Shopping Mall (제주 중앙지하상가)
Since the night was still young, we went out for a walk around the town after check in our luggage. I first went to the convenient store to find the delicious Banana Milk (1,300 Korean Won) and the ladies were heading to the shopping place in Chilsungro Shopping Town and Jungang Shopping Mall.
Most of the stores were already closing hence we just walk around for some window shopping. There are some stores selling hipster stuff (eg. a hipster hat with Ironman lego bricks on it) at one of the street in Chilsungro Shopping Town.
Chilsungro Shopping Town
Korea Banana Milk - Must Try!!
Found a hair salon name called BABI. I guess they meant 'Barbie? =P
One of the hipster shop in Chilsungro Shopping Town
Jungang Shopping Mall 제주 중앙지하상가
Girls, if you love shopping, you will love
Jungang Shopping Mall 제주 중앙지하상가
as they have all sorts of stuff from clothing to personal care products. There are some food stalls too. I wasn't sure about the pricing as I was just wandering around haha. Jungang
Underground Shopping Mall is famous because the shops are underground and you can still do your shopping here although it is raining outside.
Mascot in Jungang Underground Shopping Mall
The Class Menswear at Jungang Shopping Mall
Food souvenirs I got from the convenient store
Honestly, I found myself spent more time in their supermarket and convenience store. Maybe because I was amazed with all kinds of Korean groceries available there. Bought myself different flavors of Banana Milk, MarketO Brownie and of course Pocky which comes in many different flavors too.
Here's a tips for you, if you love to drink Banana Milk and eat Honey-butter potato chips, do buy it from the biggest supermarket in town as they give better price. Trust me, supermarket is the best friend you can have in Jeju Island.
That's the end of my Day 1 in Jeju Island. The next day was a very happening day and I can't wait to share with you guys. I really love Udo Island (우도) and especially our delicious and cheesy lunch with a story behind it.
Jeju Bersama Baki Zainal Travelog Ep.1 - Ep. 3
Stay tuned for my next post!!
Thanks for reading!
Press the "Like" button
and share with your friend kay? You can
subscribe to TianChad @ 永遇乐
, be a fans on
TianChad @ 永遇乐
and
follow @TianChad on Twitter
for future blog post update =)